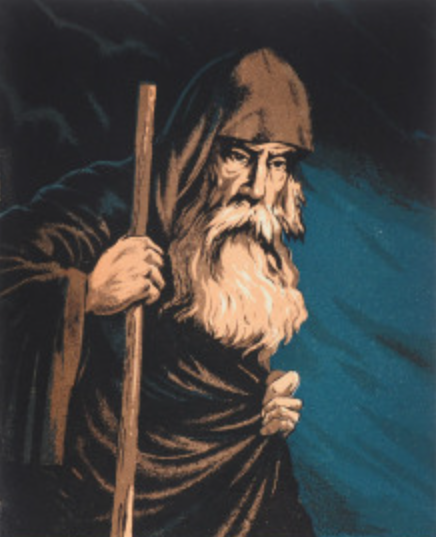 24.12.2022
"Father Sergius" is a novella written by Leo Tolstoy in 1890-1898 and published in 1911.
Creation history
The idea for the story came to Tolstoy in 1889-1890 and is linked to the personality of Maria Pavlovna Chekhova, about which the sister of the great Russian playwright recalled as follows
"There were several guests, and there was a lively conversation, in which Lev Nikolaevich took an ardent part. On listening I understood that it was about some secular young man, a student of whites, who had unexpectedly taken monastic vows. Tolstoy was evidently very interested in this story.

– I know such a case, too," I said.

– Yes, you do, Mary Pavlovna," said Tolstoy, "and did you know this young man personally? – He turned at once with his whole body towards me.

– Certainly I knew him," I answered. – I even danced with him once at a ball.

– Yes? So? And how did you dance with him? What dance? Was he a good dancer? What did you talk to him about during the dance?

Tolstoy even put his fists under his knees, making himself comfortable and literally throwing questions at me: "Was there any unhappy love? Was he ever in love? What kind of family was he? What was he like? How did he dress? Was he nice in character?"

I answered as best I could, marvelling that Count Tolstoy was so inquisitive and impolitely persistent. Having served my allotted time, I began to say goodbye. I was persuaded to stay for tea, but I apologised and said goodbye after all.

– I'll take M. P. to the coach," said Tatiana Lvovna.

– No," said Tolstoy, "I shall see M. P. off myself. I shall put him in a cab and take a stamp.

This meant noticing the number of the carriage. This was the usual way of doing it when a lady was leaving on her own. All the way back L. N. continued to ask me insistently about the same student.

I remembered this incident some years later, when I was reading "Father Sergius". Lev Nikolaevich sent me this story with a dedicatory inscription: "To my dear Maria Pavlovna, with gratitude for the story. Leo Tolstoy."
The first plan appeared in Tolstoy's diary on 3 February 1890. On 6 June Lev Nikolaevich wrote:
"Started Father Sergius and thought into him. All the interest is in the psychological stages he goes through".
Tolstoy worked intermittently on the story until September 1891. He returned to it only by 1898. On June 12, 1898 Lev Nikolaevich wrote in his diary:
"Today I have started to finish Sergius quite unexpectedly".
In October 1900, when Lev Nikolayevich met Maxim Gorky, he retold him the contents of the story. Gorky recalled:
"…I listened to the story, stunned both by the beauty of the narration and the simplicity and the idea."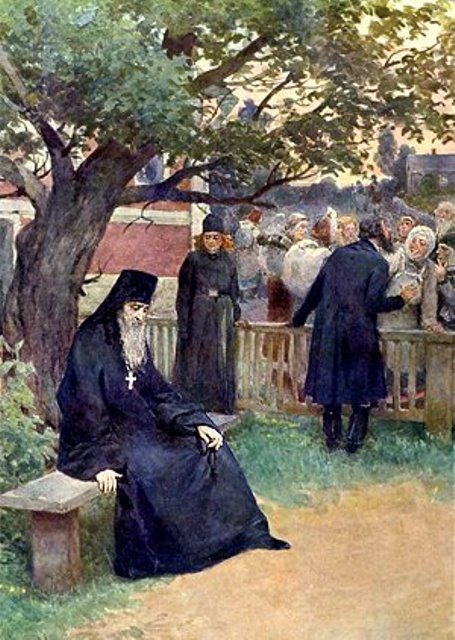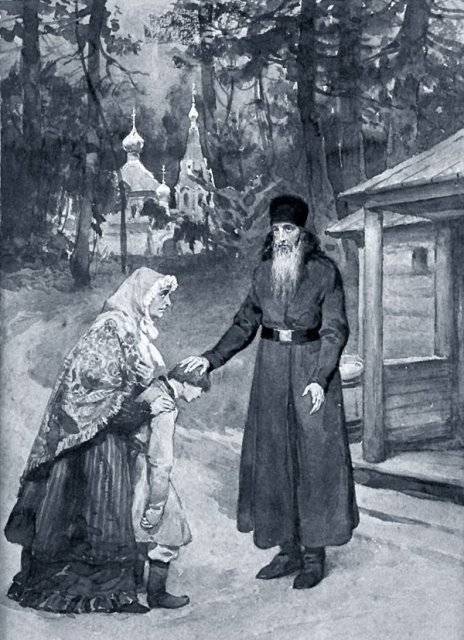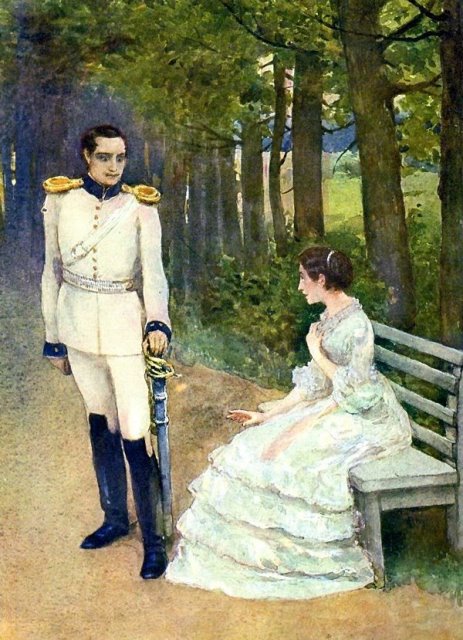 The plot of the story
The story begins with a description of the childhood and youth of Prince Stepan Kasatsky, an officer, an ardent, proud young man – a great admirer of the Tsar. The young man was about to do great things, he was well versed in the sciences. Suddenly he discovers on the eve of his wedding that his bride, Countess Marya Korotkova, was the mistress of Nicholas I. This blow makes him reconsider his whole life and, renouncing his titles, become a monk. Stepan takes the monastic vows under the name of Father Sergius. He becomes a recluse. Despite his removal from the world, he remembers perfectly why he now has this life. In the sixth year of his reclusion, at the Shrovetide festival, a merry company from a neighbouring town drove up to his cell. One lady from the company, Makovkin's divorcee wife, entered the cell with the intention of seducing Sergius on a dare. Father Sergius, resisting this, retreats to the halls, where he cuts off the index finger of his left hand with an axe. Makovkina, realising what had happened, left him with the intention of changing her life. A year later she left for a monastery. Father Sergius's fame as a righteous man grew. He was gaining fame as a healer, and pilgrims came to him from everywhere. But this by no means pleased him. Moreover, the numerous pilgrims greatly distract him from prayer. Sergius is still aware of his inability to reach the true faith. He is still tortured by boredom, pride and lust. Everything repeats itself when the merchant's feeble-minded daughter Marya is brought to him to be treated with prayer. The next morning he leaves the monastery and searches for his childhood acquaintance Pashenka (Praskovia Mikhailovna), whom he, with a company of other boys, tormented many years ago. He finds her, and finds his shelter. He begins to vagabond, for which he is soon arrested and exiled to Siberia. There he works as a hired labourer for a rich man, teaching children and looking after the sick.